A specialist steel storage terminal that will strengthen the North East manufacturing sector's access to high-quality global steel supplies has welcomed its first shipments to the Port of Hartlepool.
The Hartlepool Steel Terminal, owned and operated by PD Ports, allows customers to discharge different steel products – including coil, steel plate, beams and pipes – on to the same berth, reducing both shipping and onward freight costs.
The 75,000sq ft facility has been upgraded to store steel coil and can hold individual coils of up to 30 tonnes. The warehouse is also serviced by two 40 tonne overhead cranes.
The development means that the Port of Hartlepool is the only North East coastal port that can receive both short sea and deep sea volumes of steel coil, offering capacity for more than 50,000 tonnes of the product.
Vessels carrying a wide variety of steel products, including the first shipments of steel coil, arrived in Hartlepool this month [July], including ships from Brazil, Turkey and Germany.
Three jobs have been created at the Port of Hartlepool thanks to the investment in the facility, with a number of existing roles secured. The port has already handled 50,000 tonnes of import and export steel products in the first six months of 2023, a figure which is expected to grow significantly thanks to the new steel coil offer.
The project represents a diversification for the terminal building, which previously supported the oil and gas industries – the change to steel storage will allow importers to reduce their carbon footprint and provide a more cost effective logistics solution by reducing road miles to northern customers.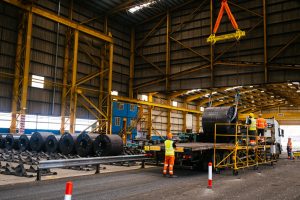 Roy Merryweather, general manager – business development at PD Ports, said: "This new facility is a significant investment in our operations at Port of Hartlepool, making it a truly global terminal and one that will support North-East manufacturing businesses in sourcing their products from around the world.
"It will open up access to the best quality steel available internationally, including many grades that are not made in the UK.
"It offers flexible options for customers looking to ship steel products in and out of the port and strengthens our position as the port of choice for global steel manufacturers."
John McCabe, chief executive, North East England Chamber of Commerce, said: "The announcement of a new steel coil handling terminal at the Port of Hartlepool is excellent news for the North East and presents a strong advantage in strengthening the region's manufacturing businesses.
"The terminal brings huge import and export opportunities and places us on a global stage in the sector, as major international companies look to the region to transport their steel goods.
"By providing cost effective logistic solutions and allowing importers to reduce their carbon footprint, the new terminal is targeting key business goals around sustainability and saving money.
"With a thriving regional supply chain, the Hartlepool Steel Terminal is sure to play its part in the region's economic renewal."
Find out more about the commercial solutions on offer at Hartlepool: https://www.pdports.co.uk/locations/hartlepool/
Posted in: Investment