Last week, PD Ports' IT Director, Jan-Willem Rickkerink, led a virtual roundtable event with 10 other Northern Powerhouse businesses to discuss how organisations can best utilise technology to ease the flow of goods post-Brexit.
The event, coordinated by UMi, followed on from the Northern Powerhouse Export Awards, an event at which PD Ports was the headline sponsor in December last year.
The discussion saw experts from across a number of industries and sectors come together to discuss shared experiences and challenges that they currently face as a result of Brexit.
As a business who deals with the movement of goods on a daily basis, PD Ports felt it was important to share ideas and best practice on how technology can help to aid these processes and operations.
In July last year, we hit a significant milestone with our Automated Gate and Vehicle Booking System (VBS), which saw over 370,000 appointments created since the system was introduced in July 2019.
The technology, which requires hauliers to pre-book appointments when dropping off and collecting containers, places the Port in a prime position to support the smooth flow of goods transiting Teesport, in line with new Brexit border controls.
We spoke to Jan-Willem, who said, "Having recently launched our bold ambition to make the River Tees the UK's most successful port region by 2050, we know that technology will continue to play a huge part in the continuous development of our business as we look to become a 'smarter port'.
"We felt that a platform for collaboration with other businesses in the Northern Powerhouse, especially as we progress through the Brexit transition period, was vital to ensure new ideas and best practise could be shared.
"With the help of UMi, this virtual roundtable event allowed us to do just that, giving businesses the invaluable opportunity to come together and voice their opinions in order to make a collective impact going forward."
Colin Simpson, Business Development Director at Tomlinson Hall, attended the event and he said, "I found the session really informative and thought provoking, the blend of opinion with the platform to air collective frustrations combined with the offers of potential solutions was a very positive fusion.
Having the opportunity to share experiences with likeminded individuals from different industrial backgrounds has to be viewed as a good investment of time."
The event occurred not long after PD Ports launched its 'Future Teesport' vision – outlining how it plans to elevate the River Tees to become the UK's most successful port region by 2050.
As Statutory Harbour Authority for the River Tees, PD Ports is committed to delivering a strong and sustainable future for the river, driving economic growth and job creation across the Tees Valley region and the UK as a whole.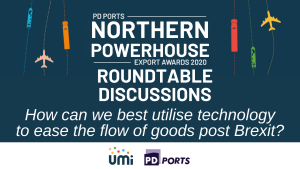 Posted in: Uncategorised