As part of the Road Haulage Association (RHA) 'National Lorry Week', we talked to two of our  transport colleagues to hear more about what they love about their jobs – from the independence on the open road to the positive changes they've seen in the industry.  
Emma Walker has been working for PD Ports for more than five years after setting her sights on becoming a HGV driver following earlier roles in retail and construction.  
What attracted you to a career as a HGV driver?  
I was working on Taylor Wimpey housing construction, and I'd be on site in early in the morning, watching the wagons coming in. I began to get a sense of the freedom the drivers had in their days to move around. I looked into it as a career option and what it would cost to get the required licenses.  
How did you get started?  
My Dad suggested I contact Kara Rouse, who is quite a well-known female driver on social media for advice. I messaged her, and she gave me tips on how to get stared and suggested I enter a competition, called HerGV. It happens every year and helps promote lorry driving as a career choice to more women, who are still very much in the minority. I was all set up to pay for my own training and licenses which you need to get set up in the industry, but as I won the competition, I was so lucky to get this all paid for! 
What brought you to PD Ports? 
Jim French, who used to work at here, was one of the judges HERGV competition panel, and he suggested I apply for a role here. I'm so glad I did, it's a great company to work for.  
What do you like best about being a driver? 
I really love it, there's always something different happening every day – the same run can be completely different one day after the next. Even though you have your destination and delivery time set, your day feels like your own. I have worked in offices and in retail in the past, I do prefer this for the feeling of freedom and never feeling like I take work problems home with me – once it's done it's done! I've found I can get bored easily, so I like the open road and being in charge of my own day. At the moment I'm working on the Taylor's run, I load in at Billingham, leaving at 10am, for the 12pm delivery time. You must be alert to any issues on the route and then you decide to make changes as and when needed.
Would you encourage other women to become a driver?  
I would encourage other people to go for this role although I can see how the how the shifts would need careful thinking about if you had a family.  People are surprised when they hear my voice when I arrive at my destination, they are so used to drivers being male, that I'm often addressed as mate, or buddy, then when they realise, I'm female they apologise and change their greeting! We do have a few other female drivers here, I even helped recruit one of my colleagues Laura who is now a good friend, when we met as strangers in a beautician and got chatting about how good being a driver can be!  
Are you supported to develop your career here?  
I really am, I started with my Class 1, then PD have put me through my ADR to allow me to work on moving hazardous loads. I also have the option to be trained on tippers to load steel, so I know there's always room for progression if I'm interested.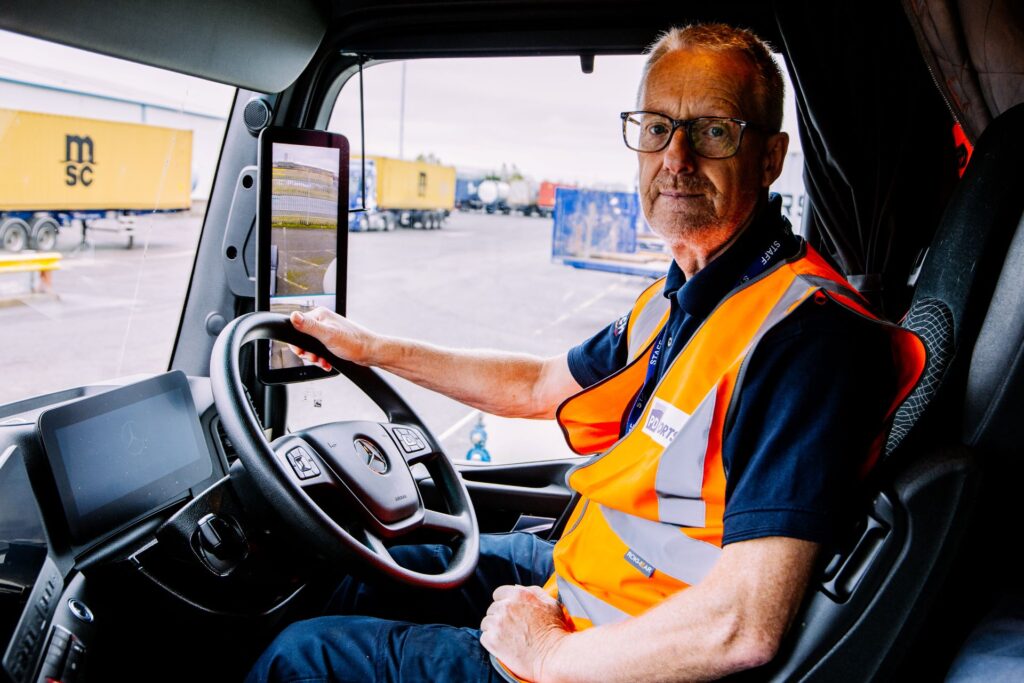 Gavin Morgan has been driving for 35 years, the last four of which have been here at PD Ports. 
What do you enjoy about being a driver?  
I love the variety of the work, you don't become a driver if you want 9-5, you need to be flexible and adapt to the hours. Every day is different; I appreciate the independence; you have a job but it's up to you how you do it – you pick the route and the timings to get you there. It's also the variety of routes – I mainly do container work, and I can go all over the country, but I particularly like driving up to Scotland.  
How does PD compare to working for other companies?  
I'd say working here is not like working for a 'normal' transport firm – it's a lot better! I've worked for a few other companies over the years. Here, you are treated better, you can talk to people, you're not just a driver, the training and support you are given is better, and the trucks are good quality. They are fairly new vehicles here, in past jobs I'd be driving an old truck where bits and pieces fall off, and it would be up to me to fix it on the road.  
What changes have you seen over the years in the industry?
When I first started driving, it was all manual gearboxes and you had to go hard on the clutch. It's all automatic now so you use just your right foot really. Also there's more opportunities now being generated out of the northeast, if you wanted this career, it generally used to be Felixstowe-based.
What's your routine when you're tramping out for the week (staying overnight on long journeys)? 
You come in Mondays, for about 6, then you are told your job. You normally have three or four nights away in the week, and sleep in the cab for 3 nights. On the way I listen to a lot of Radio 2! The cab is home away from home – I like to keep it really clean and have a nice warm quilt and pillow for sleeping. I take my own food as it's challenge to eat healthily on the road, but I do manage and it's surprising what you can make with hot water – pasta and rice and things can be done easily now.  
We stay overnight in a designated area – PD have invested in a Snap account, which means we have access to stops that are gated with security, it's much better than just having to pitch up in a lay by and gives you much more peace of mind – and much better facilities than many I've seen! 
For more National Lorry Week content head to our LinkedIn profile.
Posted in: Uncategorised